Want to change lives as a fitness instructor? Each course prepares you to teach a different format used in the SHSU GroupX program. This class is a...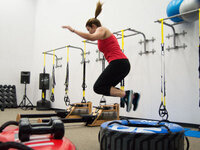 What is your workout of the day? This team environment class, taught by Madi, will utilize a variety of strength equipment including barbells, kettlebells,...
Join Jenna on Mondays and Sarah on Thursdays for this great cycling workout. This indoor cycling class consists of varying speeds, resistance levels and...